Introduction
According to the whitepaper, Saitama is a web 3.0 technology company primarily focused on developing a decentralized finance ecosystem for everyday life. Saitama aims to simplify DeFi technology, especially for newcomers to blockchain and cryptocurrencies. Saitama operates on the Ethereum (ETH) blockchain.
Development
Saitama started as a community token project in June 2021. Now, based on the data provided by CoinMarketCap, the real time market capitalization of Saitama token is $50,664,670 when writing this article, which places it in a position of Rank #370 on CoinMarketCap.
Saitama once carried out a token migration to a new version of the crypto, Saitama V2. The reason behind this move was to improve security with multi-sig wallets, become more exchange-friendly. It is said that Saitama v2 was also to have a much smaller total supply than the original version.
As it said in a statement: "Saitama started as a meme token inspired by a popular anime series and was part of the INU dog-themed sub-group."
"The V2 contract will see INU finally gone for good and will classify Saitama as a utility token, helping us with our objective to become a top project in this space."
The new Saitama first came onto the open market in early June 2022. The Saitama V2 contract address is :
0xce3f08e664693ca792cace4af1364d5e220827b2
Products
SaitaPro mobile app and desktop app. SaitaPro also contains a DApp browser. Saitama's proprietary NFT platform FANG allows users to buy and sell digital art
using Saitama tokens. According to the official website of program, currently FANG is in Beta version at http://fang.art It is also said on website that SaitaPro is developing 3 play-2-earn games. Users will be able to use Saitama tokens to play and earn rewards.
SaitaPro
Non-custodial wallet
Sending digital currencies
Transfer to multiple recipients and cut fees with bulk transfers
Buy cryptocurrencies
SaitaSwap
Connecting to DeFi apps through DApp browser
FANG
Play games to earn tokens
View and manage ERC-20 (Ethereum Network) and BSC (Binance Smart Chain) tokens, as well as a variety of other blockchains.
Staking and yield farming
Use Cases
SaitaSwap
Edutainment
SaitaPay
SaitaRealty
Play-2-earn games
FANG
Saitama Token
Saitama is an ERC-20 (Ethereum) token. According to the data provided by CoinMarketCap, so far circulating supply of Saitama token is 38.61 billion, which accounts for around 39% of the 100 billion max token supply. It is said on whitepaper that 55% of the token supply has been burned.
Saitama Token was listed on Gate.io, OKX, MEXC, LBank, BitMart, Bitrue, Bybit, BKEX and Hotcoin Global exchanges on October 8, 2022, based on the data provided by CoinMarketCap.
Roadmap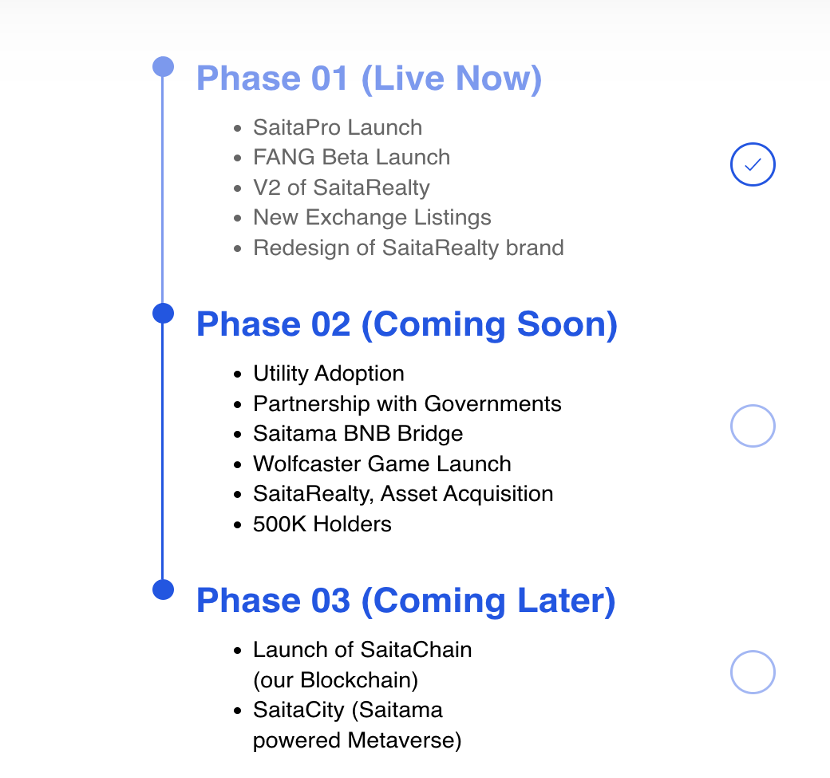 Source: https://www.saitamatoken.com/goals/
Note: The ownership of the Saitama smart contract isn't renounced, which means the owners are able to modify contract behavior (for example: disable selling, change fees, mint new tokens, or transfer tokens). Please exercise caution if you are investing in this asset.