What Is Immutable X (IMX)?
Immutable X positions itself as the first layer-two scaling solution for NFTs on Ethereum. According to Immutable X, it can do away with Ethereum's limitations like low scalability, poor user experience, illiquidity, and a slow developer experience. Immutable X was developed with StarkWare's STARK prover and roll-up technology.
Immutable X was founded by James Ferguson, a Forbes 30 Under 30 entrepreneur that previously led a software development team at an e-Commerce company, and his brother Robbie Ferguson. When we were writing this article (October 11, 2022), according to the data provided by CoinMarketCap, the real-time market capitalization of Immutable X native token, IMX, is around 162 million dollars and the 24-hour volume of it is approximately 24.48 million dollars.
Protocol Architecture & Features
The core of Immutable X is the zk-rollup scaling engine, developed in partnership with StarkWare using their StarkEx prover and verifier. Normally, in a zk-rollup, users lock assets in an on-chain smart contract: these assets are "deposited" into L2. These assets can be traded using L2 transactions, which are ordered by an "operator" entity into a consistent historical sequence. Transactions are then grouped into a "batch" or "block", and proof is generated for the validity of this batch. This proof is then published on-chain and verified by a smart contract which updates the on-chain state. Using this on-chain state, users can unlock their assets. The STARK proofs of StarkWare prove specific knowledge without disclosing any relevant information. This brings a higher level of privacy and security to Immutable X transactions. Proofs can be quickly verified as they do not contain complete information on each transaction. The computational and storage resources required to validate blocks are also reduced. It is said that Immutable X can achieve 9,000 transactions per second (TPS) and zero gas fees without compromising user ownership.
As for the reason why Immutable X uses STARK proofs as opposed to the more common SNARK proofs. It is said on the whitepaper of Immutable X that STARK proofs are a more recent advance in proving technology that aim to solve the key problems with SNARK-rollups, namely that:
SNARKs require a trusted setup ceremony.
SNARKs are not post-quantum secure.
SNARKs rely on extremely complex cryptography and can be prone to implementation errors.
However, STARK proofs are larger and cost more to publish on-chain.
The Tokenomics
IMX is the native utility token of the Immutable X protocol. IMX has the following functions:
Transaction Fees:20% of the protocol fee on every Immutable X transaction must be paid in IMX.
Staking: All fees paid in IMX are sent to the "staking reward pool". Staking IMX can be granted the opportunity to earn rewards from this pool if the eligibility requirements are met.
Governance: IMX can be used to vote on the future of Immutable X. Proposals will be published on Snapshot, and will relate to the future development and expansion of the protocol.
For supply, there is a total of 2,000,000,000 IMX tokens. Digital Worlds NFTS is the issuer of the IMX Token and will distribute IMX tokens in the following areas:
IMX tokens distribution (Image Source: immutable.com)
Ecosystem
We found some representative projects currently on Immutable X:
Delysium: It is said that Delysium is a real open-world, AI-powered, and completely player-owned MMO game with diverse free-to-own universes.
Undead Blocks: A multiplayer first-person-shooter (FPS) game courtesy of Wagyu Games. Built on the Ethereum mainnet, Undead Blocks lets players choose from a selection of weapon NFTs to battle their way through hordes of Zombies, and earn ZBUX tokens in the process. Players can then exchange their ZBUX into Gold ZBUX, which can be redeemed for fiat or swapped for other cryptocurrencies.
Deviants' Faction: A Play & Earn NFT trading card game.
WAGMI Games: In this Sci-Fi Tower Defense Game, you have the choice to play humans or aliens and defend your towers to the end in this live-action strategy.
Illuvium: Illuvium is an Ethereum Blockchain-based open-world RPG adventure game.
Ember Sword: The brainchild of Bright Star Studios, Ember Sword is a massively multiplayer online role-playing game (MMORPG) set in a player-driven universe.
Gods Unchained: Launching in 2018, Gods Unchained is one of the most popular play-to-earn tactical card games on the blockchain.
Guild Of Guardians: Guild Of Guardians is a multiplayer, fantasy, action RPG where players build their dream team of Guardians and compete in a guild to earn epic rewards.
Planet Quest: Planet Quest is a sci-fi fantasy exploration game that takes players on an epic journey to unique, uncharted planets in search of an element called Quantum.
Immutable Developer & Venture Fund
The $500m fund is set up to accelerate the growth and success of web3 projects & games built on Immutable X, via Ventures and providing access to Digital Worlds' Grants.
Ventrues: Immutable X is establishing co-funds with leading venture firms BITKRAFT, Animoca, Airtree, King River Capital, and GameStop which are focused on web3 games and NFTs to give developers access to additional investment opportunities.
Grants: Digital Worlds NFTS, the not-for-profit foundation, and issuer of the $IMX token, offers Grants to projects seeking to build on the Immutable X protocol. All Grants offered to prospective builders are subject to the final approval by Digital Worlds NFTS.
Risk Analysis of the Program
According to the data provided by TokenUnlocks, 254,862,617.5 IMX tokens will be unlocked on November 5, 2022, which accounts for about 12.74% of the total supply. Among these tokens, 134,615,385 belong to the project team and 120,247,233 belong to private sales.

Next Event Unlock in IMX (Image Source: token.unlocks.app)
We can see that TokenUnlocks marked this unlocking event as more than 250 million unlocked, even exceeding the current market circulation of about 235 million according to the data on CoinMarketCap. Although Immutable X co-founder Robbie Ferguson said on Twitter that for the upcoming massive unlocking of IMX Token, tokens belonging to the team will continue to be locked for at least one year, and a large part of the unlocked Private Sales is strategic investment of some major shareholders who will not choose to sell them. But such a large-scale unlocking still caused widespread concern in the market and may have an impact on the secondary market price of IMX tokens.
Let us take a look at the expected change curve of IMX token supply below. From the perspective of token economics, the inflation rate officially predicted by Immutable X for the whole time period is not low until the 48th month. The unlocking day on November 5th coincides with the one-year anniversary of IMX's launch on Huobi. According to the IMX team, it is also the one-year anniversary of when IMX was available to the public.
The anticipated circulating supply schedule of IMX (Diagram Source: Immutable X whitepaper)
Let us also take a look at the current activity of the global NFT market. Although the global market capitalization of NFTs has not declined significantly compared to the historical high, the transaction volume since the second half of 2022 has been very low. It is incomparable to the bull market in NFT trading in the first half of 2022.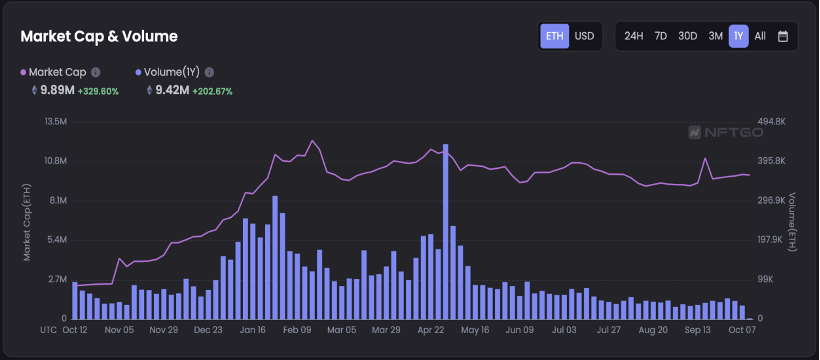 Market Cap & Volume of Global NFT Market (Data Source: nftgo.io)
Conclusively, the upcoming large-scale unlocking of IMX tokens may have a big impact on secondary market transaction prices. In the long run, the inflation expectations of IMX's economic model are also relatively high. Besides, the current NFT market serving as the basis for the value of the Immutable X project is with low market transaction volume. Although the project launched the IMX staking on September 2 of 2022, the current valuation of the Immutable project still needs to take into account these various factors in a balanced manner. In another word, these noteworthy risk points cannot be ignored.
合规和免责声明
The author of this report and his organization do not have any relationship that affects the objectivity, independence, and fairness of the report with other third parties involved in this report.
本文作者及其机构不因与任何第三方的关系而影响此报告的客观性、独立性和公正性。
The fact, information and data cited in this report are from compliance channels. The sources of the fact information and data are considered reliable by the author, and necessary verifications have been made for their authenticity, accuracy and completeness, but the author makes no guarantee for their authenticity, accuracy or completeness.
本文信息数据和事实均来自合规渠道,对于数据和相关事实的可靠性、准确性和完整性作者进行了必要的验证,但是作者不保证相关数据和事实的可靠性、准确性和完整性。
The content of the report is for reference only, and the facts and opinions in the report do not constitute business, investment and other related recommendations. The author does not assume any responsibility for the losses caused by the use of the contents of this report. Readers should not only make business and investment decisions based on this report, nor should they lose their ability to make independent judgments based on this report.
报告仅用于参考,报告所涉及的任何事实和观点都不构成商业推荐、投资推荐和其他相关推荐。对于使用本报告造成的损失作者不负相关责任。读者不应只根据此报告做出商业或投资决策,也不应该失去对本报告内容的独立判断能力。
The information, opinions and inferences contained in this report only reflect the judgments of the researchers on the date of finalizing this report. In the future, based on industry changes and data and information updates, there is the possibility of updates of opinions and judgments.
本报告的信息、观点和推断只能反映完成本报告时研究人员的判断。未来,基于行业改变和数据更新,相关的意见和判断有重新更新的可能性。
Under no circumstances shall this report be quoted, deleted or modified contrary to the original intent.
任何情况下,本报告不应被引用、删除或者修改来表达与本报告原始意图完全相反的观点和意图。
6.No copyright infringements intended. Any data, images or other information mentioned in this report have been properly cited and credited to the providers of them. But if any external institutions or individuals argue that information used in this report has violated intellectual property right of them, please notify the writer and we will delete it as soon as possible.
本报告不侵犯任何著作权。本报告中使用的任何图片、数据和其它信息都已经被合理标注并且属于原创者。但是如果任何外部机构或个人认为报告中使用的信息侵犯了他们的知识产权,请即时通知本文作者,我们将尽快予以删除。