What is EVMOS?
Evmos is a scalable, high-throughput Proof-of-Stake blockchain that is fully compatible and interoperable with Ethereum. It's built using the Cosmos SDK, the consensus of which is Tendermint consensus.
Colloquially, Evmos is the EVM of Cosmos ecosystem, which allows dApps of Ethereum to run on Cosmos. Also, smart contracts on Evmos can communicate with other programs of Cosmos ecosystem through the Inter Blockchain Communication Protocol(IBC).
EVMOS has some features:
● Compatibility with Web 3.0 and Ethereum
● High throughput runs on top of Tendermint Core consensus engine.
● The horizontal scalabilty based on the IBC.
● Fast transaction finality.
According to the EVMOS official site, developers can seamlessly deploy smart contracts on it through leveraging existing Ethereum ecosystem tooling and software.
EVMOS Ecosystem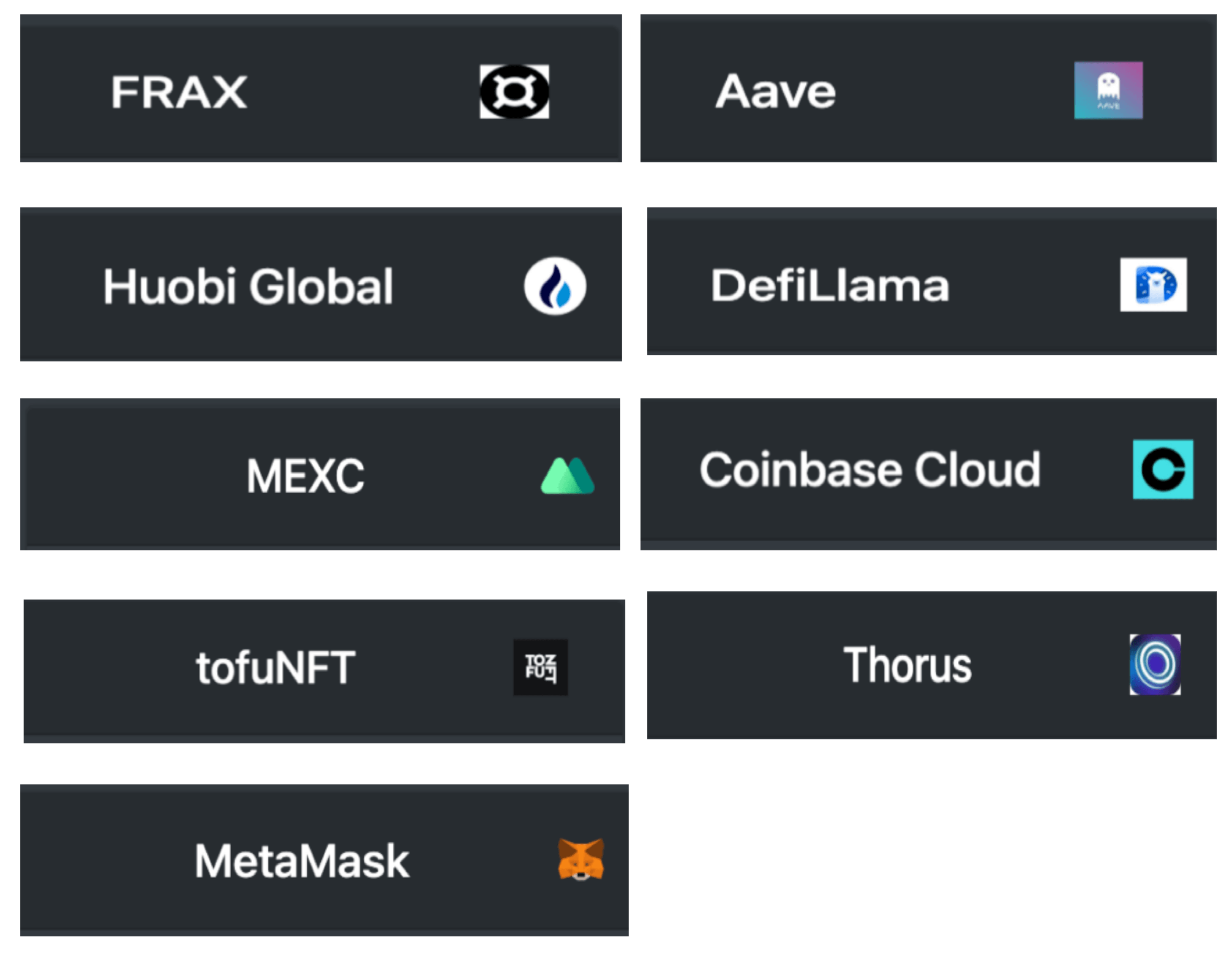 (all cards: 64)
Ethereum Transactions EVMOS supports
● Dynamic Fee Transactions(EIP-1559)
● Access List Transactions(EIP-2930)
● Legacy Transactions(EIP-2718)
EVMOS Token
The EVMOS token is used for POS staking, governance proposals, distribution of fees to validator and users, gas consumption for running smart contracts on the EVM.
The base denomination of EVMOS token is aevmos. Aevmos can be compared to wei on Ethereum. In order to maintain parity with Ethereum, 1 evmos = 1018 aevmos, which matches Ethereum denomination of : 1ETH= 1018 wei.
When the time we are writing this article, the real time price of EVMOS Token on CoinMarketCap is around 1.49 dollars. The open price of EVMOS Token was 3.8 dollars. 24 hours trading volume of it is around 0.95 million dollars. The formal listed time of EVMOS Token was May 6th, 2022. As an asset listed on secondary market recently, CoinMarketCap does not provide its market-cap and circulating supply. Thus we suppose that the trading of this coin is not
active enough for now.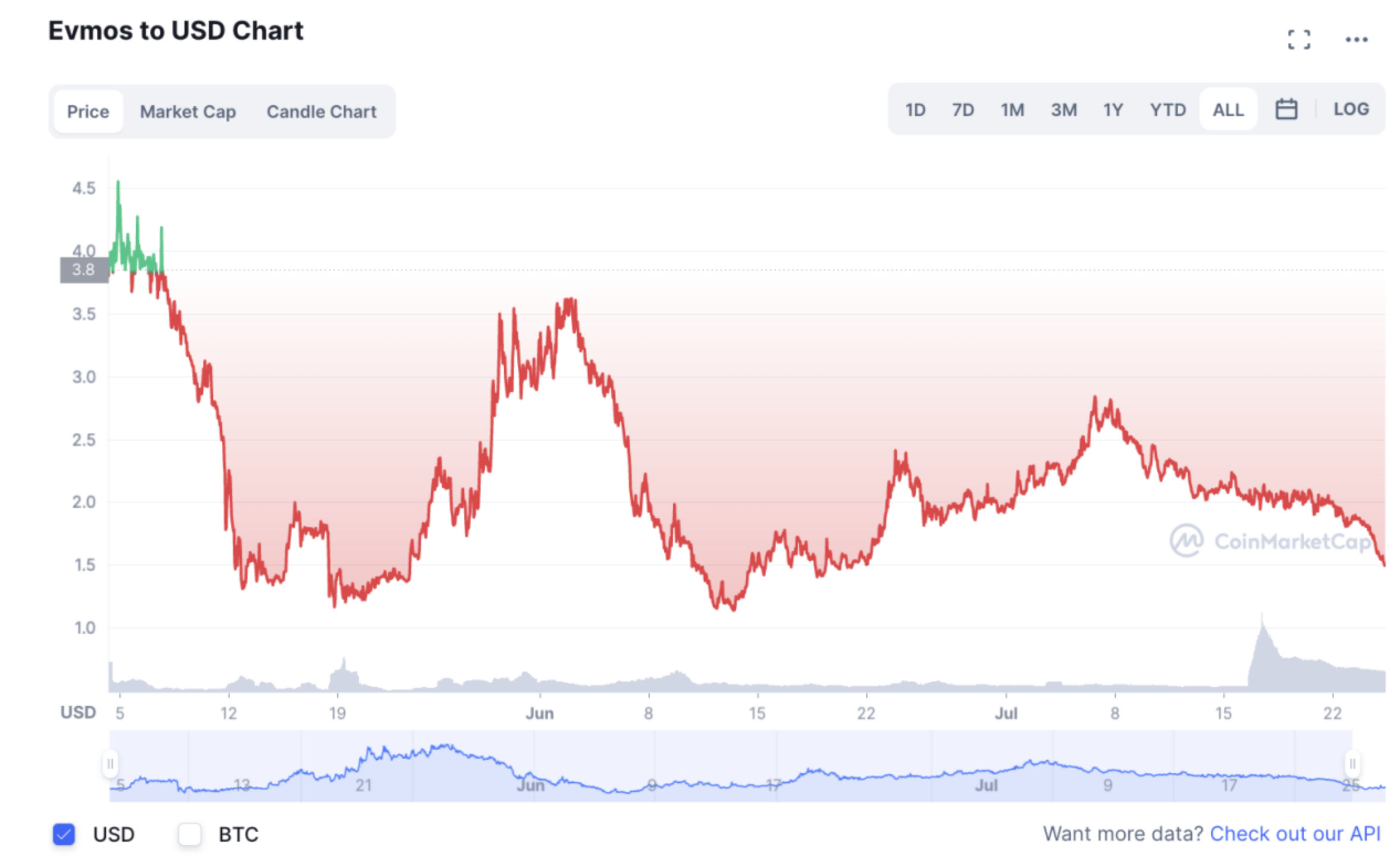 Image Source: CoinMarketCap
The data of CoinMarketCap also shows that the main exchanges for EVMOS spot trading currently are MEXC, DigiFinex, Bitget and ZT。
There was no sale for pre-mined/minted EVMOS tokens. They airdropped all tokens.The initial supply of EVMOS Token are 200 million. The supply target of it is to issue 1 billion Evmos tokens in 4 years with over 300 million tokens being issued during the first year. The initial supply split between the airdrop participants(40%), the community pool(10%)and a strategic reserve(50%).
Newly issued tokens are distributed in the following way,
● Staking Rewards:40%
● Team Vesting: 25%
● Usage Incentives: 25%
● Community Pool: 10%
It is easy to find that, based on the initial supply and real time token price of EVMOS, the market cap of it can be ranked a relatively high position on market. However, the rank of it on CoinMarketCap is #3007 when writing this article. Furthermore, CoinMarketCap does not show its market cap at all. Thus there are maybe some hidden problems we do not know.
Cosmos Coins
EVMOS accounts can own Cosmos coins in their balance, which are used for operations and transactions with other Cosmos programs.
ERC-20 Tokens
Evmos is compatible with ERC20 tokens and other non-fungible token standards (EIP721, EIP1155) .
Competitors
There is viewpoint that the reasonable benchmark of EVMOS should be THORChain(RUNE), which is ranked #55 by market cap for now. Certainly, RUNE itself can be taken as a multi-chain protocol also works for Cosmos ecosystem, with a market cap of around 780 million dollars. However, obviously, RUNE is not an appropriate benchmark for EVMOS. RUNE is a cross-chain AMM instead of a EVM. Furthermore, while THORChain uses Tendermint and Cosmos-SDK, smart contract address of it is on BNB Beacon Chain.
In our opinion, the appropriate benchmark of EVMOS maybe GLMR, which is an EVM-compatible blockchain on Polkadot. Notably, Cosmos ecosystem is not as welcomed as Polkdot system, which may weak the value of EVMOS program to some extent.
Coclusion
Theoretically, EVMOS is a reinforcement for Cosmos ecosystem, which can make Cosmos ecosystem more complete. But it is notable that, EVMOS once happened to serious technical failure during the process of upgrade on March 2022, which delayed the originally scheduled upgrade till next month.
合规和免责声明
1. The author of this report doesnot have any relationship that affects the objectivity, independence, and fairness of the report with other third parties involved in this report.
本文作者不因与任何第三方的关系而影响此报告的客观性、独立性和公正性。
2. The information and data cited in this report are from compliance channels. The sources of the information and data are considered reliable by the author, and necessary verifications have been made for their authenticity, accuracy and completeness, but the author makes no guarantee for their authenticity, accuracy or completeness.
本文信息数据均来自合规渠道,对于数据可靠性、准确性和完整性作者进行了必要的验证,但是作者不保证相关数据的可靠性、准确性和完整性。
3. The content of the report is for reference only, and the facts and opinions in the report do not constitute business, investment and other related recommendations. The author does not assume any responsibility for the losses caused by the use of the contents of this report. Readers should not only make business and investment decisions based on this report, nor should they lose their ability to make independent judgments based on this report.
报告仅用于参考,报告所涉及的任何事实和观点都不构成商业推荐、投资推荐和其他相关推荐。对于使用本报告造成的损失作者不负相关责任。读者不应只根据此报告做出商业或投资决策,也不应该失去对本报告内容的独立判断能力。
4. The information, opinions and inferences contained in this report only reflect the judgments of the researchers on the date of finalizing this report. In the future, based on industry changes and data and information updates, there is the possibility of updates of opinions and judgments.
本报告的信息、观点和推断只能反映完成本报告时研究人员的判断。未来,基于行业改变和数据更新,相关的意见和判断有重新更新的可能性。
5. Under no circumstances shall this report be quoted, deleted or modified contrary to the original intent.
任何情况下,本报告不应被引用、删除或者修改来表达与本报告原始意图完全相反的观点和意图。
6.No copyright infringements intended. Any data, images or other information mentioned in this report have been properly cited and credited to the providers of them. But if any external institutions or individuals argue that information used in this report has violated intellectual property right of them, please notify the writer and we will delete it as soon as possible.
本报告不侵犯任何著作权。本报告中使用的任何图片、数据和其它信息都已经被合理标注并且属于原创者。但是如果任何外部机构或个人认为报告中使用的信息侵犯了他们的知识产权,请即时通知本文作者,我们将尽快予以删除。