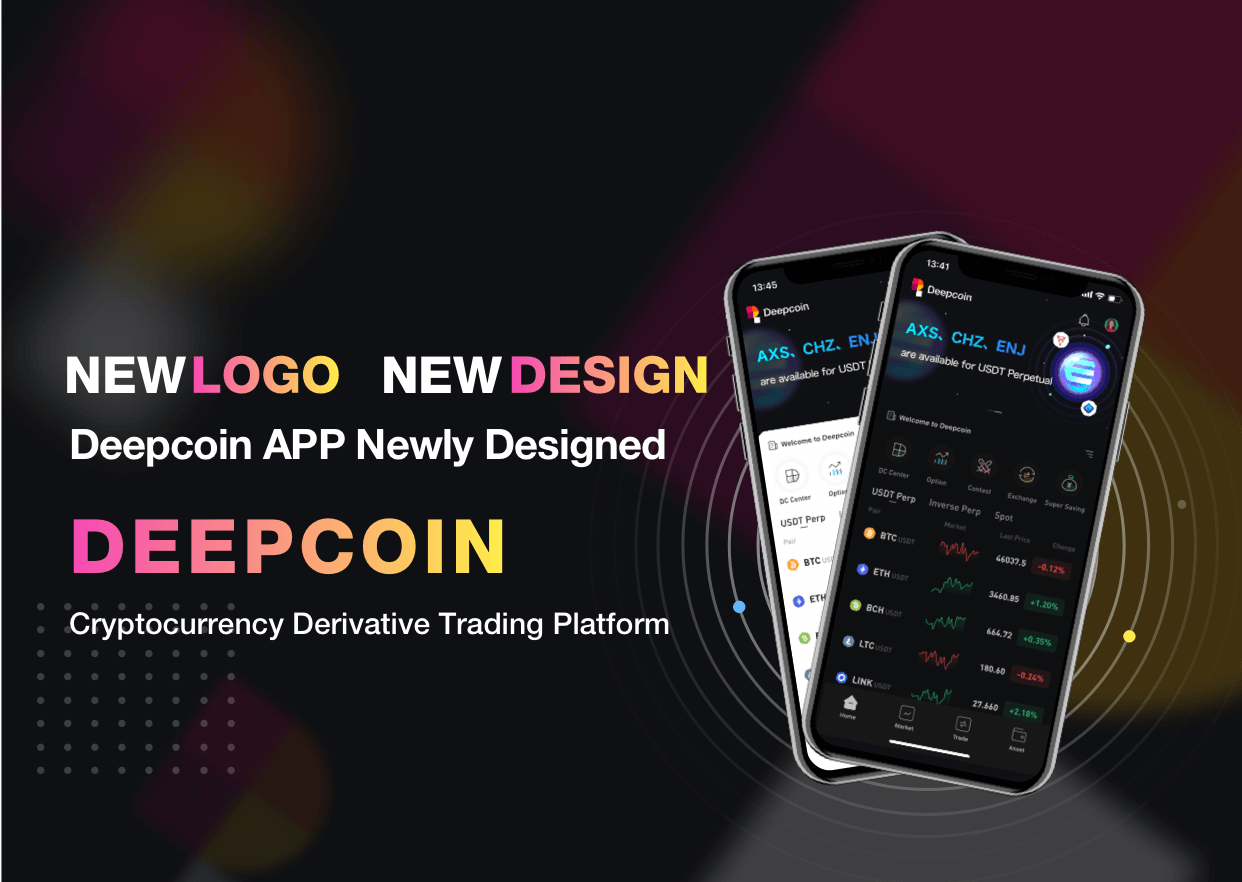 Around 3-year anniversary, Deepcoin is launching newly designed mobile application with new functions such as dark mode and updated design. The newly redesigned app will be available on the Apple Store and Google Play from September 10. Users need to download new version to use latest application.
One of the main reasons behind the relaunch was Deepcoin's desire to make applictions more interactive and engaging for users. That's why Deepcoin app has been redesigned with a new interface, one that's more attractive, easy, and fun to use.
What are the Changes?
1. New Logo and UI. Colors become brighter, which make new logo even more elegant. Deepcoin hopes that the more colorful, impactful logo will rebuild brand identity and lead exchange to new success.
OLD LOGO and NEW LOGO (Scroll left to view on mobile)
            
2. Dark Mode. Dark Mode is an extension that helps you quickly turn the screen to dark at night time. This function can help avoid screen glare and reduce blue light exposure.
3. Search, Favorites, Portfolio functions allow users to apply personal preference and enjoy customized screen.
4. USDT perpetual contract is divided into USDT Perpetual Pro(Former name: USDT Perpetual) and USDT Perpetual Lite (Former name: USDT Contract).
5. Entry by coins are available. Under USDT perpetual contract, besides "Contract", users have a new choice to order entry by coins.
6. Enhanced TP/SL functions are more flexible. Users can set TP/SL with wider range, add and reset TP/SL settings more flexibly.
Besides the routine trading battle, users can enjoy a new, special trading project called "The Last Wins", which will be launched soon.
Dear users, please kindly download new application now, and enjoy new trading experience!
Website: https://deepcoin.com/en
Twitter:
English: https://twitter.com/Deepcoin_global
Japanese: https://twitter.com/Deepcoin_JP
Telegram:
English: https://t.me/deepcoinglobal
Japanese: https://t.me/deepcoinja
Application
iOS: https://apps.apple.com/us/app/deepcoin-bitcoin-trading/id1531653240
Android: https://play.google.com/store/apps/details?id=com.deepcoin.app.global
Deepcoin Team
Sep 10, 2021