Dear Deepcoin users,
We are pleased to announce that Deepcoin will launch a brand-new upgraded Affiliate Center on August 3, 2023. This upgrade will provide VIP Affiliates with more powerful tools and abundant platform resources, aimed at helping you manage your trading business more conveniently and efficiently.
1. New Highlights:
In the all-new upgraded Affiliate Center, we introduce three key features:
Platform Resource Downloads: Affiliates gain access to a wide range of marketing and promotional resources, such as platform introductions, event posters, and promotional materials. These resources can be downloaded anytime to conveniently promote Deepcoin services and attract potential customers, bringing greater flexibility and efficiency to your promotion efforts.

Create Customized Commission Links: Affiliates can easily modify commission ratios when creating links, allowing for more attractive incentive mechanisms based on different activities and scenarios. Please note that the highest allowable ratio should not exceed the platform's maximum limit. For post-registration adjustments, contact our professional customer service team.

Data Downloads: Additionally, the new Affiliate Center version supports querying and downloading detailed commission and Affiliate information of subordinates within the last 30 days, enabling in-depth and multidimensional data analysis.
2. How to Use the New Features:
Step 1: Log in to the Deepcoin official website using your Affiliate account credentials.
Step 2: Access the Affiliate Center After a successful login, select "Affiliate Center" from the homepage menu to access the feature page.
Step 3: Utilize the Affiliate Center Once on the feature page, you can navigate through the left-side navigation bar or click on individual charts within the interface to jump to different sections. Here, you can monitor the trading activities of your subordinates and access the constantly updated platform resources provided by Deepcoin.
3. Affiliate Center Section Guide
Section 1: Account Overview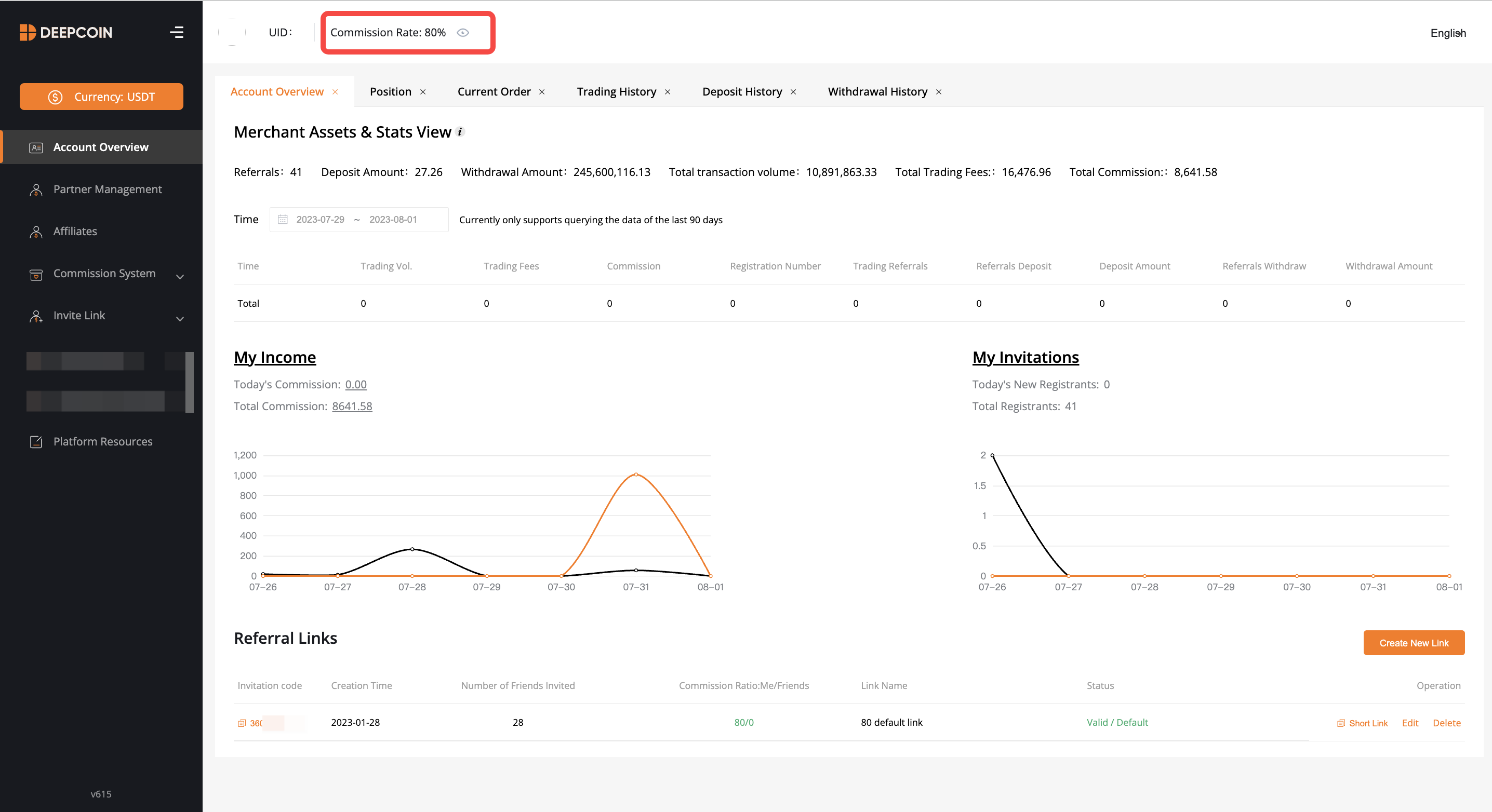 Learn about your personal commission rate from the top.

View important data such as the number of registered Affiliates, trading volume, fees, and commission earnings.

Support data visualization with intuitive charts to display the recent trading activities of your subordinate Affiliates.

Click on the chart titles to quickly navigate to interfaces for Affiliate information query, commission details query, and invitation link commission ratio settings.

At the bottom of the homepage, quickly copy your default invitation link for easy sharing with other users.
Section 2: Partner Management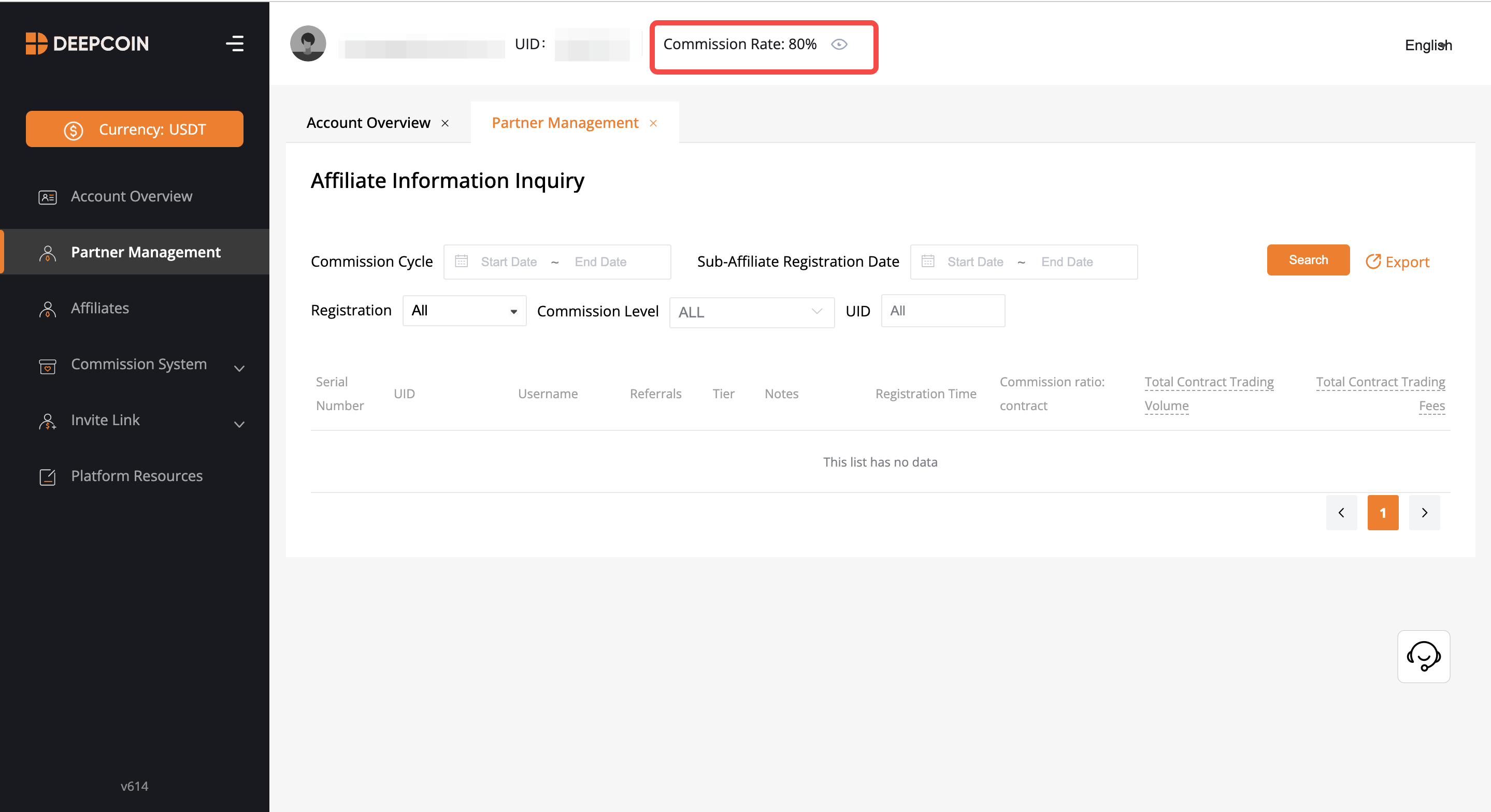 Instantly view the sub-affiliate information of all levels under your account, including recent registration dates, number of new registrants, commission ratios, and future trading data, through the "Partner Management" in the left menu or the "My Invitations" option in the account overview interface.

The new version of Deepcoin's Affiliate Center supports searching for Affiliate levels or UID, enabling convenient queries of specific levels or individual sub-affiliates recent performance.
Section 3: Affiliates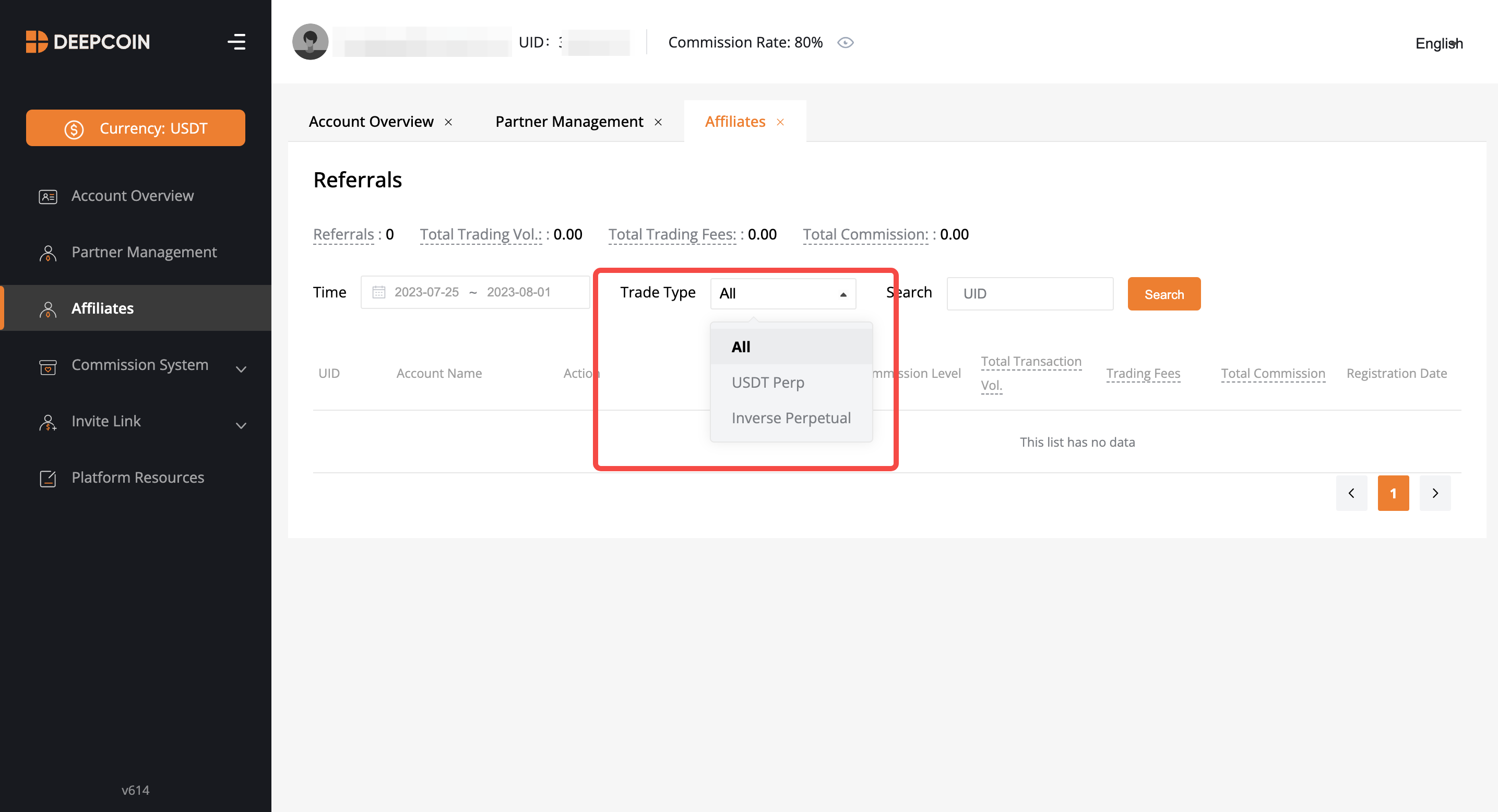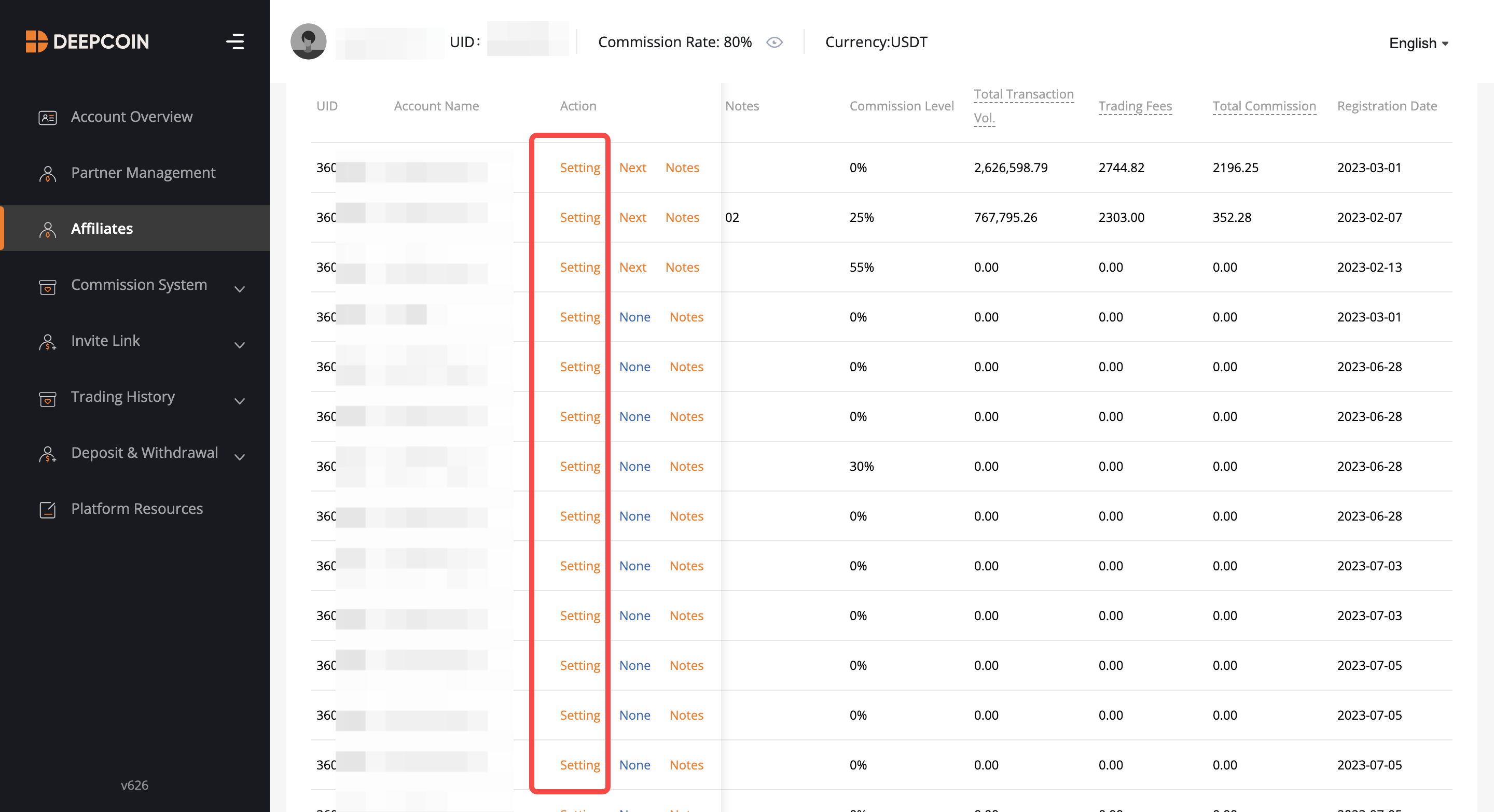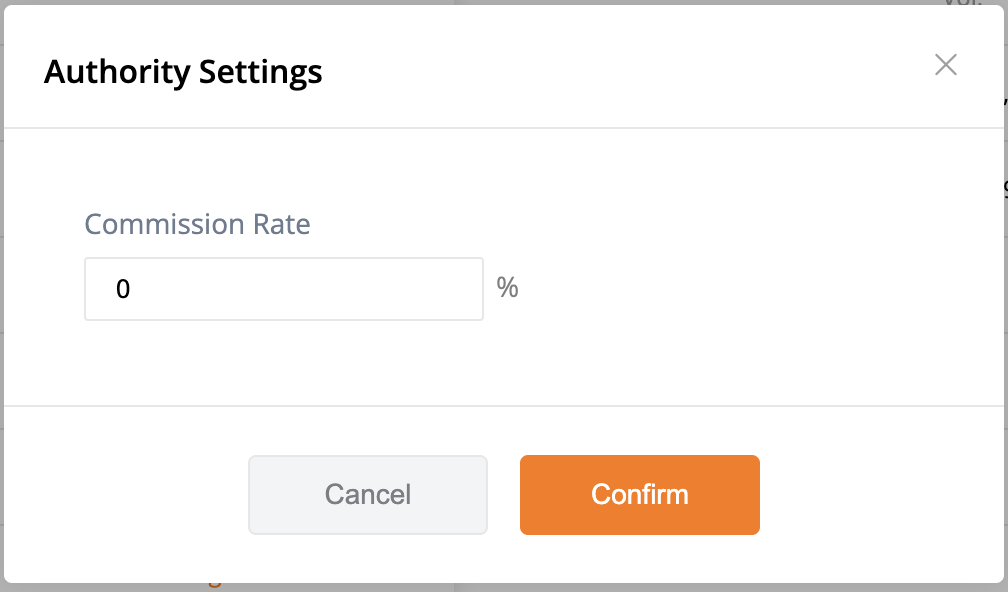 As the most commonly used interface for VIP Affiliates, the upgraded Deepcoin Affiliate Center retains this functional module.

Affiliates can start from their own account and expand through subordinate levels to access transaction commission details. Through this interface, Affiliates can understand details such as contract trades and commission earnings at each level.

Affiliates can also use the "Setting" button on this page to change or set the commission ratio for sub-affiliates once every 30 days if permissions are granted.

For a more detailed view of a specific subordinate user's commission details, Affiliates can click on the next section titled: Commission System, to further query and download detailed data.
Section 4: Commission System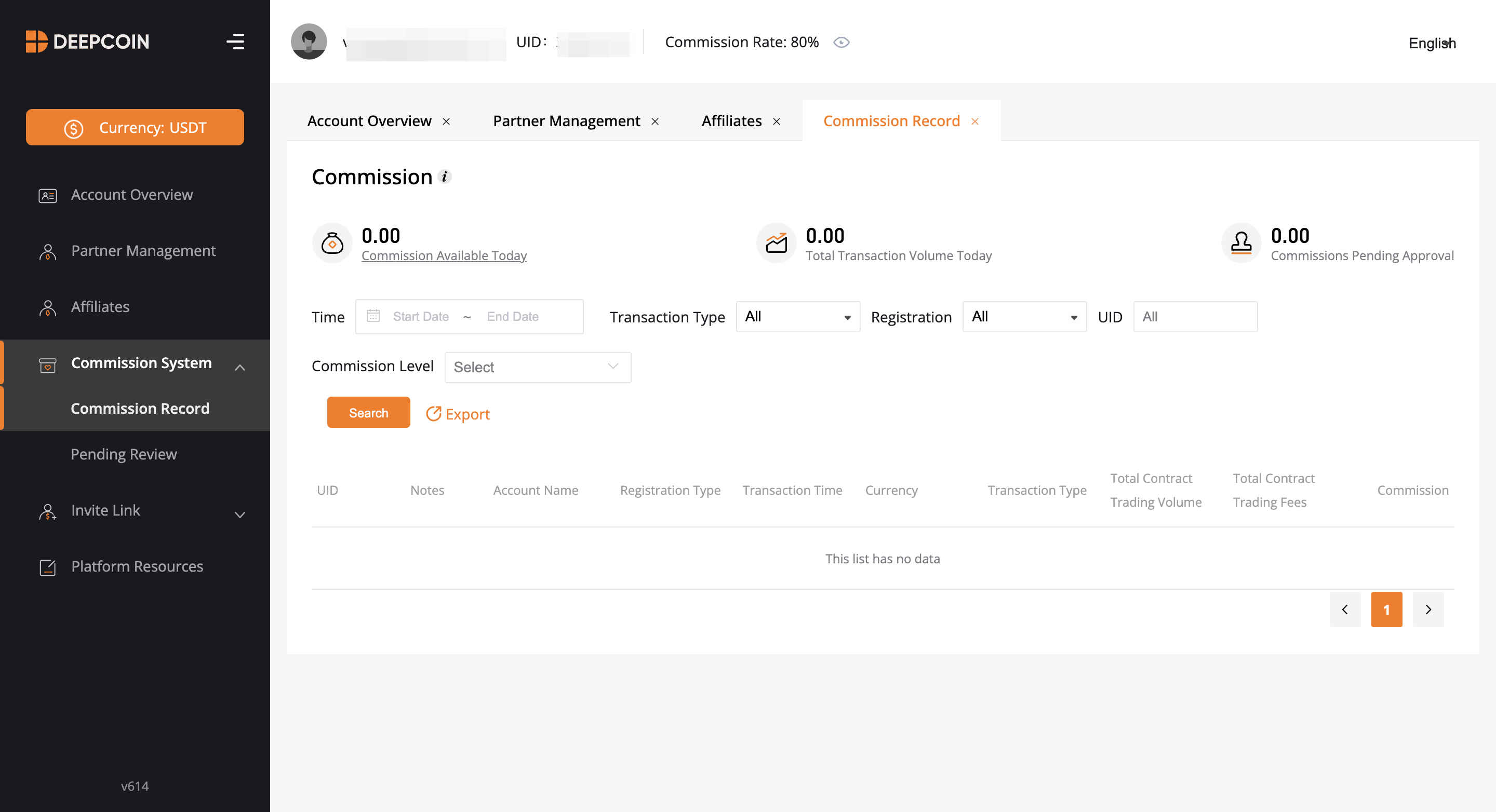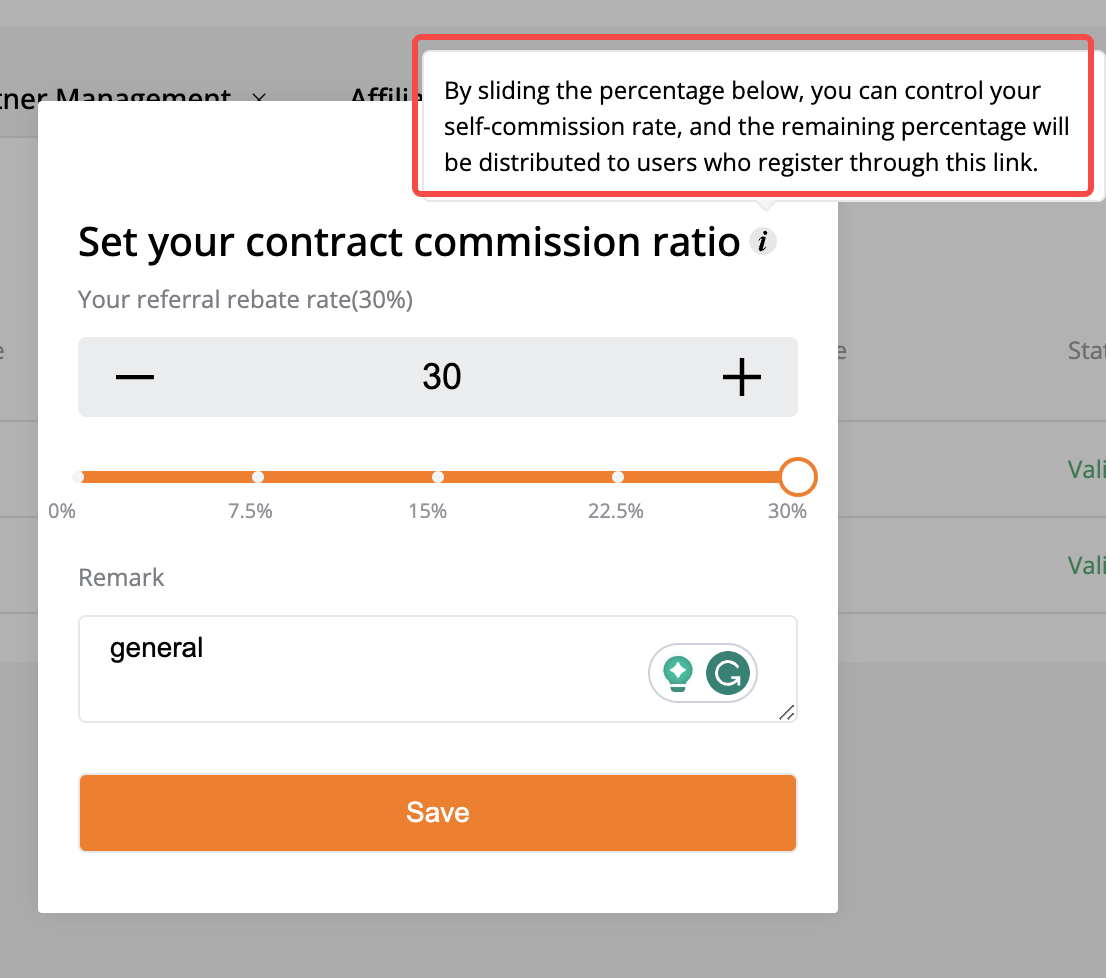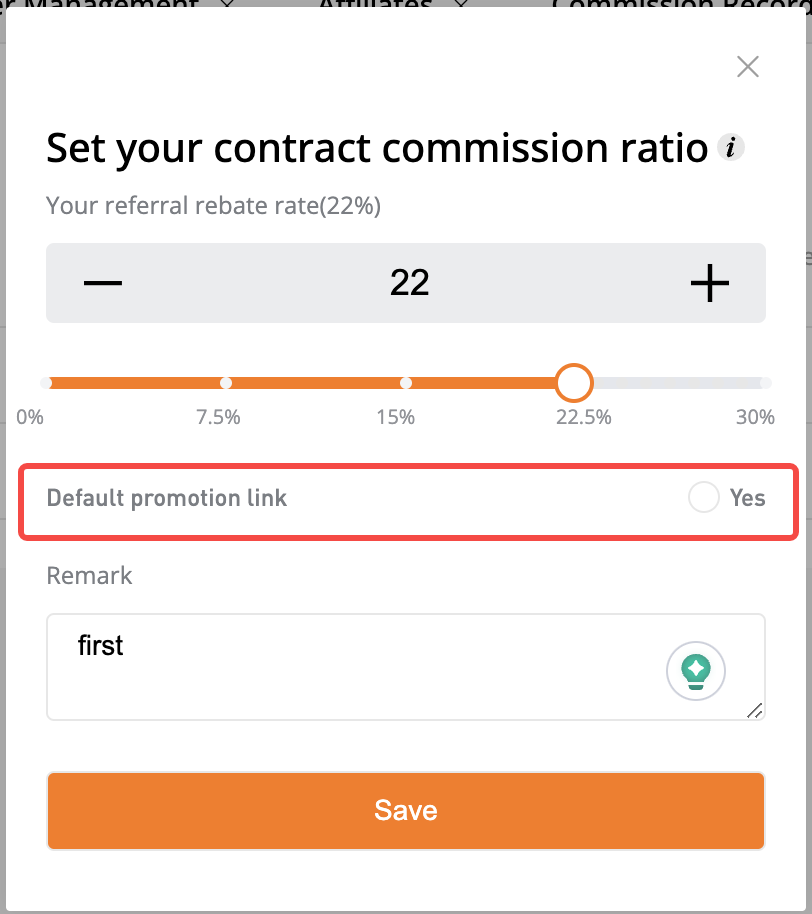 When you click on the "Commission System" option in the left menu or on the homepage, you will be directed to the Commission System module.

Within this section, you can filter data based on time, user level, UID, transaction type, and other features.

You will have access to detailed information for each commission transaction.

Please note that currently, data queries and downloads are limited to the last 30 days.

If you require further data queries beyond this period, kindly contact our customer service team directly, and they will be more than willing to assist you.
Section 5: Invite Link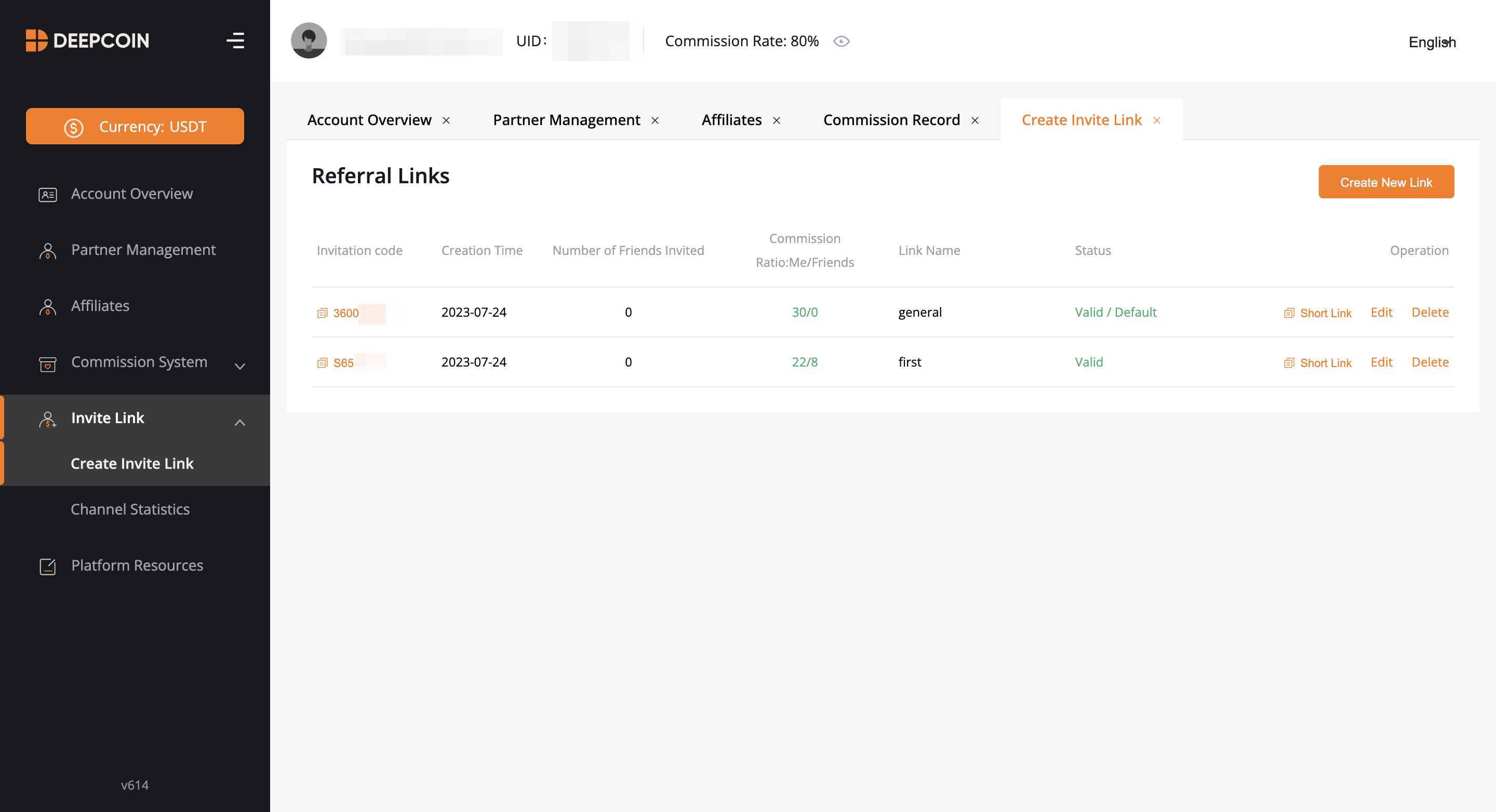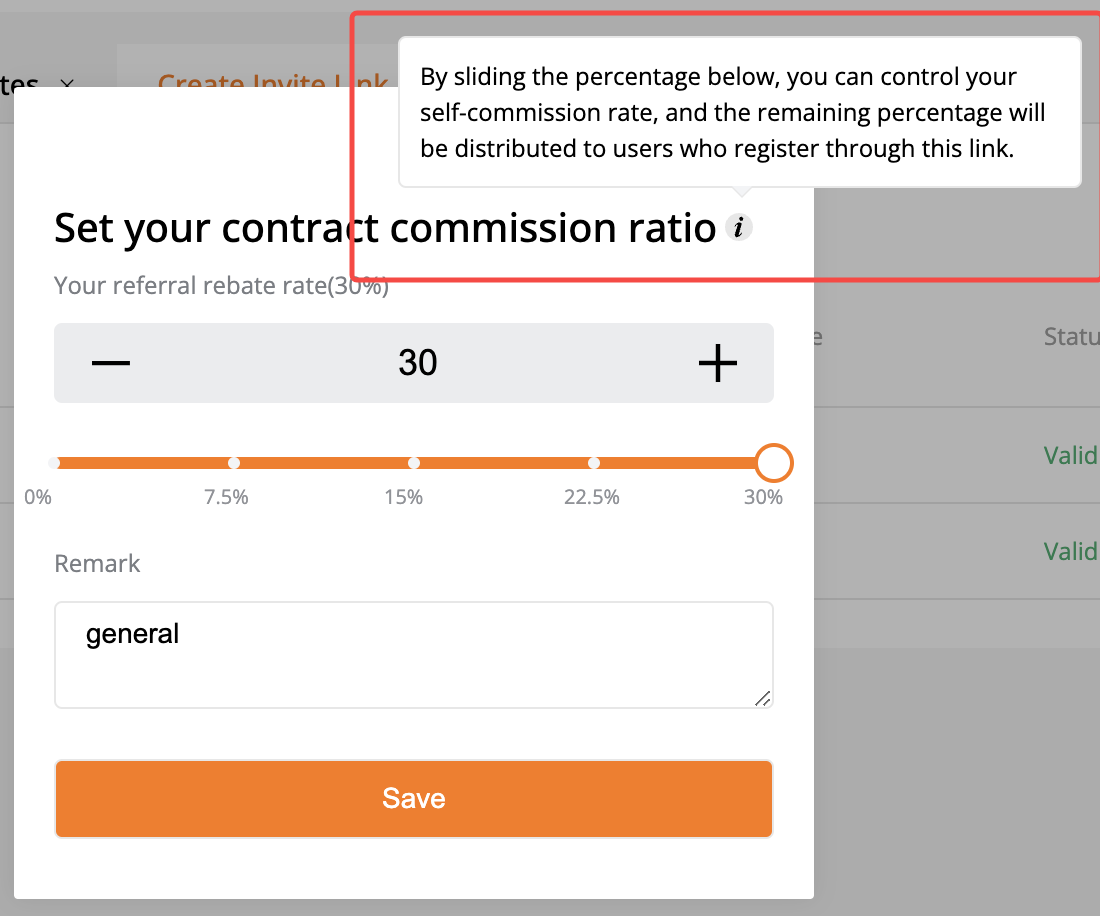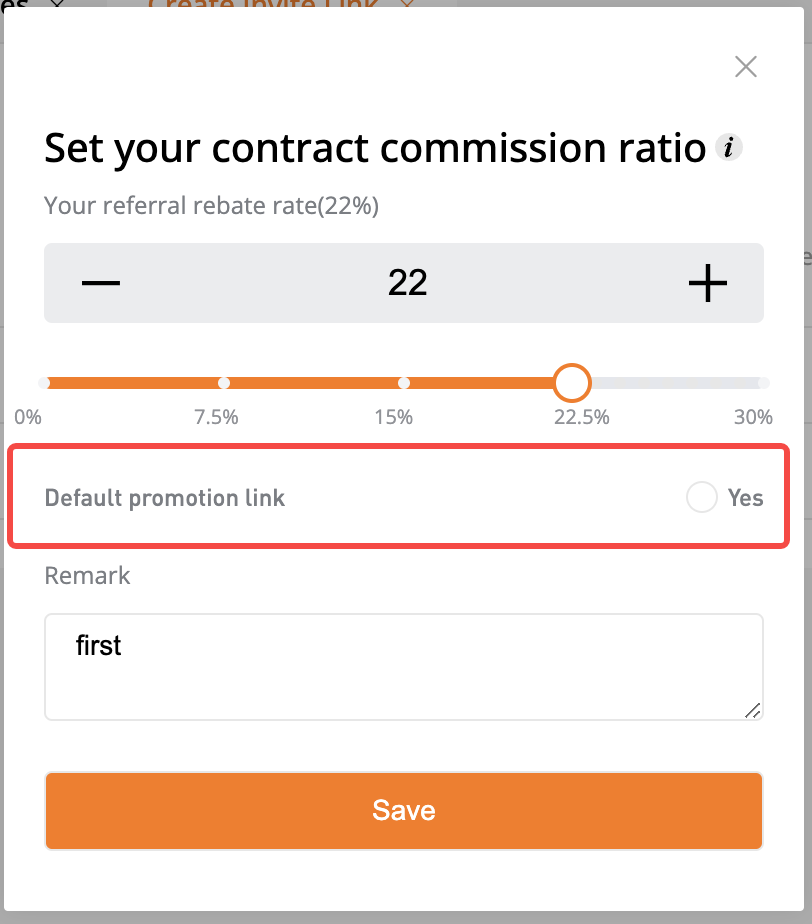 In the "Invitation Link" interface, Affiliates can create new invitation links or view commission details for existing ones. Now, you have the flexibility to set personalized commission ratios for different invitation links.

Set appropriate commission ratios based on various promotion plans to attract different types of Affiliates to join your Affiliate team.

Please note that you can only adjust the commission ratio of invitation links before users register. If you need to modify the commission ratio for a specific user after registration, please note that change can only be made once every 30 days.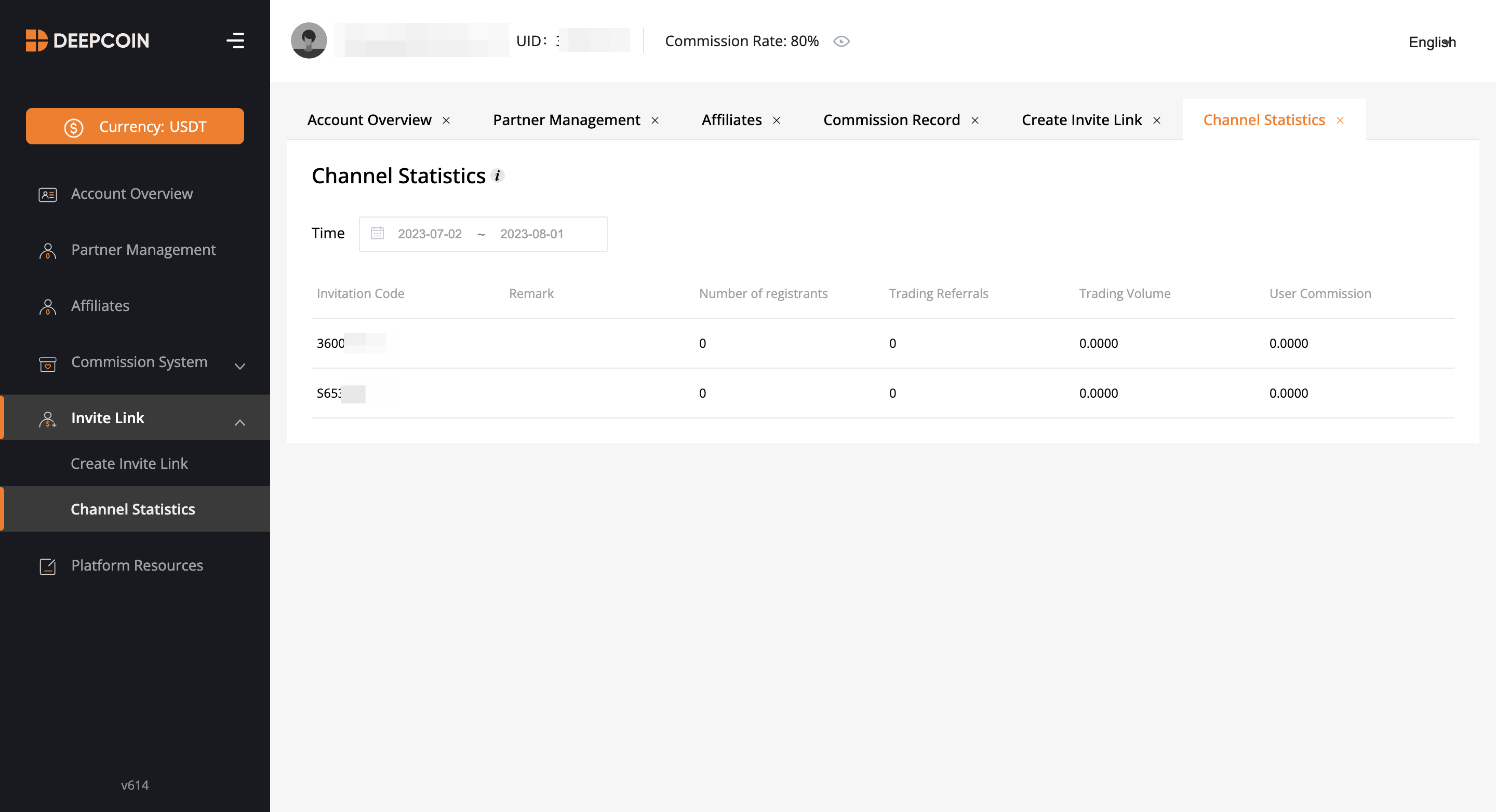 For different channels, you can utilize the "Channel Statistics" interface to gain insights into the overall performance of each team/channel.

This information will help you adjust your promotion and trading strategies more effectively.
Section 6: Platform Resources

In the navigation bar of the Affiliate Center, you will find the "Resource Downloads" option.

Clicking on it will take you to the Resource Downloads page, where you can browse and select the platform resources you need.

By clicking the download button, you will obtain these promotional materials, which will aid you in effectively promoting Deepcoin and attracting more users.
4. Help and Support
To ensure you have a thorough understanding and proficiency in using all the features of the new upgraded Affiliate Center, we will provide you with help. After the functionality is launched, you can access our Help Center at any time to read through this document or reach out to our customer service team for professional assistance and support.
5. Conclusion
Deepcoin has always been committed to providing a superior trading experience. We hope that this newly upgraded Affiliate Center will bring you more convenience and benefits. Please take full advantage of the new features after they are launched and provide valuable feedback to help us continuously optimize and improve. Thank you for your support, and we look forward to creating a brighter future together in the new Affiliate Center.